Fun, Informative & Interactive
Passionate or interested about wine and want to learn more or just want to have fun and taste some delicious wines? Join our Digital Tasting Club where we get together once a month to discover new wines and learn about them as part of a warm and vibrant community.
Once a month we will taste 3 new wines and learn everything there is to know about them. Every tasting will be centered around a new theme which will help take us all around the world discovering new wines and regions. 
Everybody's favourite aspect of our tastings is the vibrant community that has been built around them. Our live tastings on Zoom are super friendly and welcoming, people are encouraged to get the answers to their burning wine questions.
After the tasting you will receive an exclusive video recapping the key takeaways from that month's theme. We will also send you our Digital Tasting Material which will set you up for success before the tasting.
The virtual wine tasting was very well organised. We also received our tasting information guide to help us through. Sevgi is a delight and incredibly knowledgeable about all wines. We learned so much more than we had anticipated. - RACHEL M.
We had the most fabulous evening with Sevgi! She has a wealth of knowledge on all things wine related and gave so much time to answering any questions that we had during our wine tasting. We had organised the virtual tasting as a group event for a friend's birthday and we couldn't have asked for a better way to celebrate together virtually. - SORCHA C.
Absolutely lovely evening. Sevgi is very knowledgeable, there was chats discussions. Really enjoyed my evening, so we have booked another one for the end of the month! - ELIZABETH F.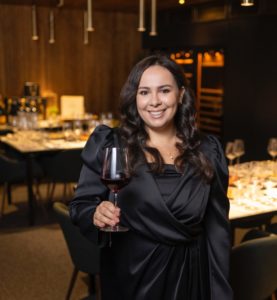 My name is Sevgi and I host all the tastings personally. I have many years experience organising and hosting wine tasting events. In that time I developed a style which is fun and engaging. With my background as a Oenologist & Viticulturist, I can also provide in depth knowledge of all things wine related. READ MORE >>
If you want to give the wine lover in your life a little something special, why not buy a gift voucher that they can redeem for an event on a date that suits them.  Purchase Here!
Our Digital Tasting Material includes:​
If you want to give the wine lover in your life a little something special, why not buy a Digital Gift Card that they can redeem against any product on our website.